G'day mates!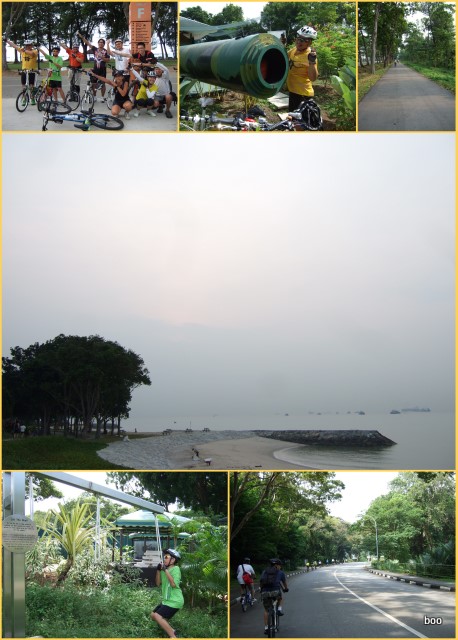 Would you like to get some Eastern Wind in your already messy helmet hair? Ride alongside with me then!
This is one of my favourite route in the East as it traverses by the greenery and seaside. This chillax (as the youngsters call it) ride takes you along the East Coast to Changi and back.
We did this ride in October 2010 so let us do it again!
Read all about it in Taiwoon's wonderful blog
http://smallwheelsbigsmile.blogspot.com/2010/10/changi-guns-have-fallen-silent-ride.html
Meeting time:
Our usual
7.30am
. We will set off at
7.45am
after some posing for the cameras.
Meeting place:
East Coast Park.
Carpark F2.
This is near the Bougainvillea Garden and Sunset Bay Cafe.
http://www.streetdirectory.com/asia_travel/travel/travel_id_44850/travel_site_1/
Route:
East Coast Park -- Enjoy the lovely sunrise and seaside
Changi Coastal -- Race alongside with the aeroplanes
Changi Village -- Brekky time!
Changi - Tour around Old Changi Hospital [Warning: Slopes ahead]
Johore Battery -- Visit the Monster Gun [Warning: Slopes ahead]
Changi Chapel -- Short break and history time [Warning: Slopes ahead]
Tampines/Simei -- Pass by the HDB flats to get to the PCN
Bedok -- Try the Bedok PCN while riding past the Newater Plant
East Coast Park -- Back!
Route map:
http://sg.mapometer.com/cycling/route_1277850.html
Route Distance:
Around 33km
Ride organizer:
Boo - Text me at 91859841 for all matters please! Do leave me your name/nickname in the message
Clarence - co-pilot
Route terrain:
The first part of the route is slow and easy as we ride along on the PCN.
The second part of the route from Changi Village takes us up and down the slopes as Changi can get quite hilly. We will also be on the roads.
The third part of the route will require us to be roads again from Changi to Tampines to Simei.
The last part of the route brings us back to the PCN from Simei back to East Coast.
For those who drive, you can park at the carpark F2.
For those who might need an escort from Bedok MRT, please let me know and I'll go pick you up at about 7am.
Come ride in the East and enjoy another beautiful Sunday with LoveCycling!
Ride Terms and conditions
1) Be punctual. We wait for slow riders, not late-comers.
2) Ride will be canceled if heavy rain.
3) Bring your own spare tube or cab fare.
4) Wear a helmet / Proper covered shoes for your own safety
5) Those joining the ride, please comply to ALL Lead riders, Safety and sweeps
6 ) Do wear a helmet and have proper covered shoes for your own safety.
7 ) Those joining the ride, please comply to ALL LTA rules on cycling on public road during the ride.
8 ) Strictly cycle in a single file on public roads unless overtaking.
9 ) We reserve the rights to refuse any participation from any cyclist(s) at any point of time.
10 ) To instill and promote safety in cycling, we will not hesitate to "STRONGLY ADVISE" rider(s) who compromises safety on himself and/or the whole group during the ride.
11 ) We are just an informal group of cyclists, therefore none of us is liable or responsible for any accident or mishap that occurs to you during any of the rides we organize.
12 ) Always cycle with safety in mind at all times.
13 ) If you need to break off from the ride at any point, please do inform the lead, safety or sweeper.
14 ) By joining the ride, means you have read the Terms and Conditions with full understanding.
Riders
1) Boo
2) Clarence
3) Dnka
4) Gywn and Kelvin
5) Marktan
6) Ameliatan
7) Eddie and company
8. Vince
9) Mary Ang (will come in green apple suit )
10) Stanley
11) Marcus yeo
12) Jason and Claudia
13) daniel
14) yuan25 aka LayYuan
15) John Fabre
16) deepika
17) Audrey CHEONG
18) Mandy
19) Alexis
20) canberraman(KS) & son (Dinasour boy)
21) George & Wendy
22) KC .. holy mackeral ! .. me 1st. anniversary with LCSG !
23) Wai Ling & Stewart
24) King Boon
25) Sebastian
26) Debbie
27) terminor aka Yi Chao & Jing Wen
28) Roger
29) Okky
30) Raymond & HY
31) Lotusfairy aka Wendy Leong
32) mr. thudbuster
33) vintagebiker aka Lee
34) Behind bars with cargo bike
35) Kelly and her dog Bamji (with new bike)
36) Jennifer, Aimei & William
37) khai
38) Sandy & Dennis
39) Hong
40) Patrick and Cindy
41) Pedaler
42) Steven + Tiger + Tiffany
43) leews aka Wei Shuan & Hai Tang
44) Roland
45) SoS
46) andriasl
47) Darren & Cynthia
48) Wai Ling (@Freedom Rider), Yat Tong and Fun